Balloons in Christmas Decor - 15 Fresh Ideas for Party Decorators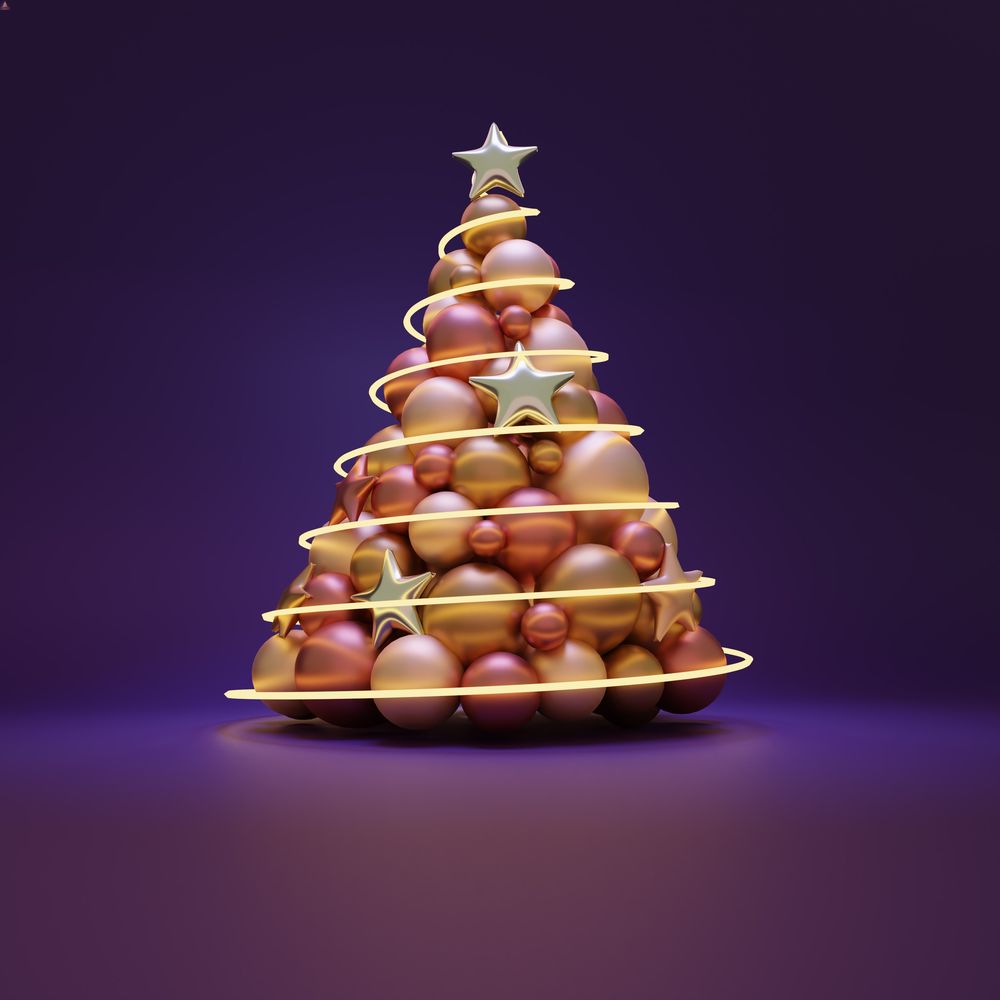 It's the most wonderful time of the year to decorate with balloons for your Christmas party. Christmas décor offers a unique opportunity to have fun with shapes and arrangements for balloons. 
Balloons make any party feel festive, but you don't have to just tie bunches of them to a weight and leave them in a corner. Instead, get creative with how you integrate them into your décor.
1. Balloon Cookie Bags To-go
Send your guests home with delicious Christmas cookies to celebrate the season. But to make it even more festive, tie red, green and white balloons to the bags to add additional charm and intrigue.
To make the favors look more festive, curl some excess string on the end. Or if you want a classier look, go for silver and gold balloons that you tie off to your Christmas cookie favors.
2. Put Glow Sticks Inside Outdoor Balloons for Evening Parties
If you never got a chance to decorate the outside of your home for Christmas, balloons can help you make the outdoors look inviting and show guests where the party is at. Put glow sticks inside of holiday-colored or themed balloons to light them up at night.
Place them on your home or mailbox for a fun touch for your party. Just be aware of how windy it is and that the glow sticks can weigh down your balloons somewhat.
3. Tape Various Sized Balloons to the Wall
Balloons don't have to be filled with helium to be a neat party decoration. You can make a plain wall look fun and inviting by inflating various sized balloons and taping them to the wall.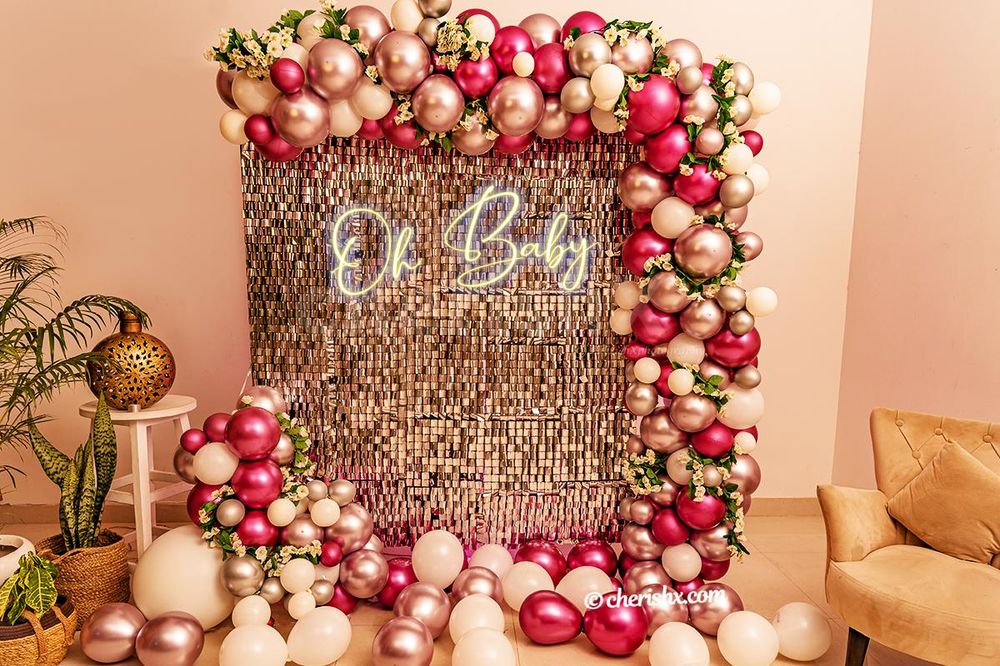 If your party is at a plain event venue, this can add a nice touch. This is even a great idea for New Year's parties to subtly hint at champagne bubbles. With light colors like pink, white and cream, your wall can look like a champagne glass for any holiday party.
4. Add Confetti to White Balloons
If you're not a big fan of plain red and green balloons, you can add confetti to white balloons for another fun way to decorate. You could even include some small Christmas tree or stocking confetti to get into the spirit. Just make sure your confetti is small enough to fit inside the balloon and ensure your white balloons are translucent. 
5. Decorate with Ornament Balloons
Ornament balloons are round and have a silver topper on them to look like the classic Christmas tree decoration. Or you can buy regular round balloons and add the topper yourself. It's pretty easy to do with silver paper. 
Use these as large floor decorations or get smaller ones to hang from the ceiling. They can make a statement and fill your room with festive cheer.
Looking for a Reliable Party Supplier?
(we offer good prices for wholesalers)
6. Add Balloon Bouquets to Every Table
Balloon bouquets are the perfect centerpiece for your holiday party. SoNice offers a Merry Christmas Balloon Bouquet that has Santa and his reindeer as the centerpiece foil balloon. It's accented with a spearmint foil balloon as well as 5 chrome balloons in red and green. And you'll get 5 confetti balloons filled with red and green confetti.
If you're inviting children to your party, they'll be delighted to see Santa at the party and will find the confetti balloons interesting and fun.
7. Build a Balloon Garland Christmas Tree
This decoration is great for events at venues that don't have much in the way of Christmas decorations. And you can't really haul a full Christmas tree into the event venue or your office. Instead, get the SoNice Balloon Garland Christmas Tree.
Once assembled, the tree stands at 55 inches tall. It includes a large red foil star balloon as the tree topper. And it has 30 smaller star balloons that serve as the Christmas tree decorations. The various sized green latex balloons simulate the shape and look of a Christmas tree, only you don't have to design it yourself.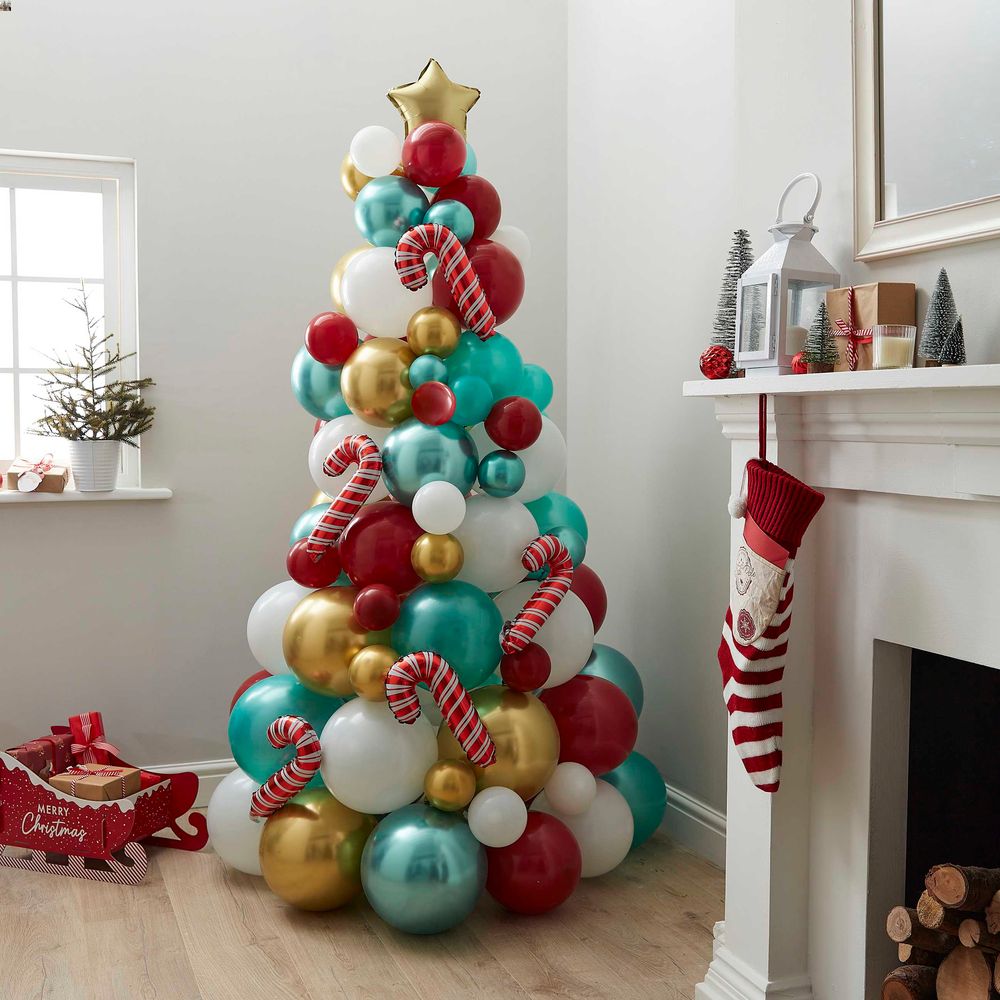 8. Hang Merry Christmas Foil Balloons
Bring the holly jolly Christmas cheer of Santa Claus into your party with foil balloons that spell out Merry Christmas with Santa on one side and a Christmas tree on the other. This is an affordable way to create a backdrop or set up a room with signage to prepare for your party. 
Add a few other foil balloons throughout your event space to tie everything together and make your party look great while incorporating the fun of the season.
9. Create Balloon Snowflakes for a Winter Theme
If you want your holiday party to celebrate more than just Christmas, go with a winter theme that avoids the classic red and green of Christmas. You can create snowflakes out of balloons. Unsure of how to get started with a DIU balloon snowflake? Check out this YouTube video that walks you through the process step-by-step to create the perfect holiday decoration.
10. Hang Photos from Balloons to Create a Chandelier Effect
Celebrate Christmases gone by with photos hanging from balloons. This creates a sort of chandelier effect but can also give your party guests easy conversation starters as they browse through the various images. 
You can use photos from friends that you've received in the mail or make them all of your family as you gather with loved ones this holiday season. Just be sure to keep your balloon strings short so that people can still walk and gather in the space without bumping their heads on the photos. Invite loved ones to take home their favorite Christmas memory as a fun reminder of the party.
11. Build a Candy Cane Balloon Garland
Candy cane balloon garlands are a lot like standard garlands just with a hook on the end. You'll mix in red and white balloons to create a neat party decoration. Learn how to make these with this YouTube video presentation. 
But before you embark on this party decoration, get this handy balloon pump to inflate your balloons with ease and save your breath for talking to your party guests.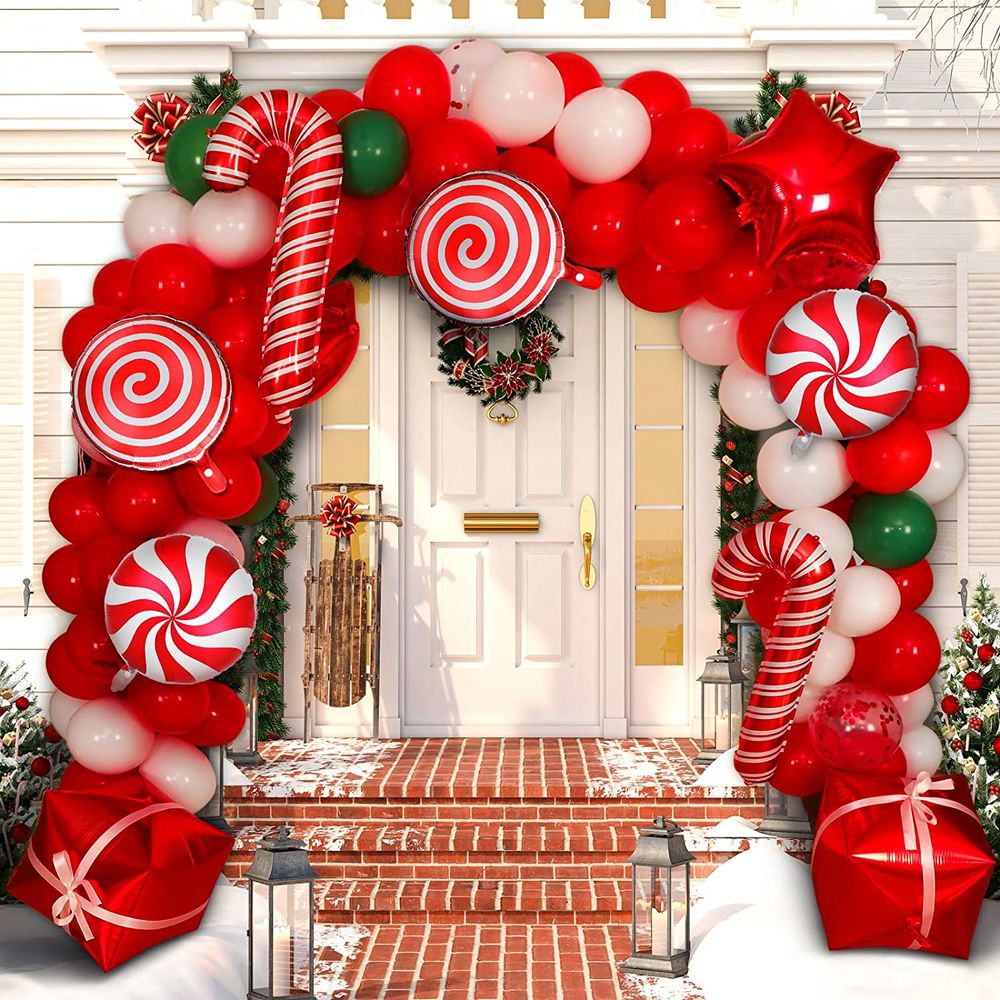 12. Use Red Balloons and Green Paper to Make Holly
Holly is so simple to make using red balloons and a little green paper. You can put them on a stick or hang them on the wall for some neat holiday décor. This is a classy way to integrate balloons into your Christmas décor. Read up on these do-it-yourself instructions for balloon holly.
13. Make a Balloon Snowman
A balloon snowman is another decoration that can speak more to the winter holidays and not just Christmas. Although if you add a Santa hat and red and green garland scarf, the snowman can also be the perfect Christmas décor.
Wondering how to create this decoration? Watch this YouTube video on how to make a balloon snowman. 
14. Send Your Wishes For the Holidays Soaring
It might sound cheesy, but taking some time to think about what you want in the new year or things that you're thankful for this year can be a great way to celebrate the season. Invite your guests to write down their holiday wishes, New Year's resolutions or what they are thankful for on a piece of paper and then send those messages soaring on balloons.
15. Make a Wreath Out of Balloons
You can form balloons into just about anything, but some shapes and creations are easier to make than others. Simple arches and garlands are the best places to start but all you have to do to create a wreath is move your garland into a circle shape. Here's a simple tutorial on how to make this balloon Christmas décor.
SoNice Party Inc. has all the holiday decorations and balloons you'll need to make this season cheerful and bright. Sign up for a wholesale party supplies account to get the best prices for stores, party planners and more.
Further Reading: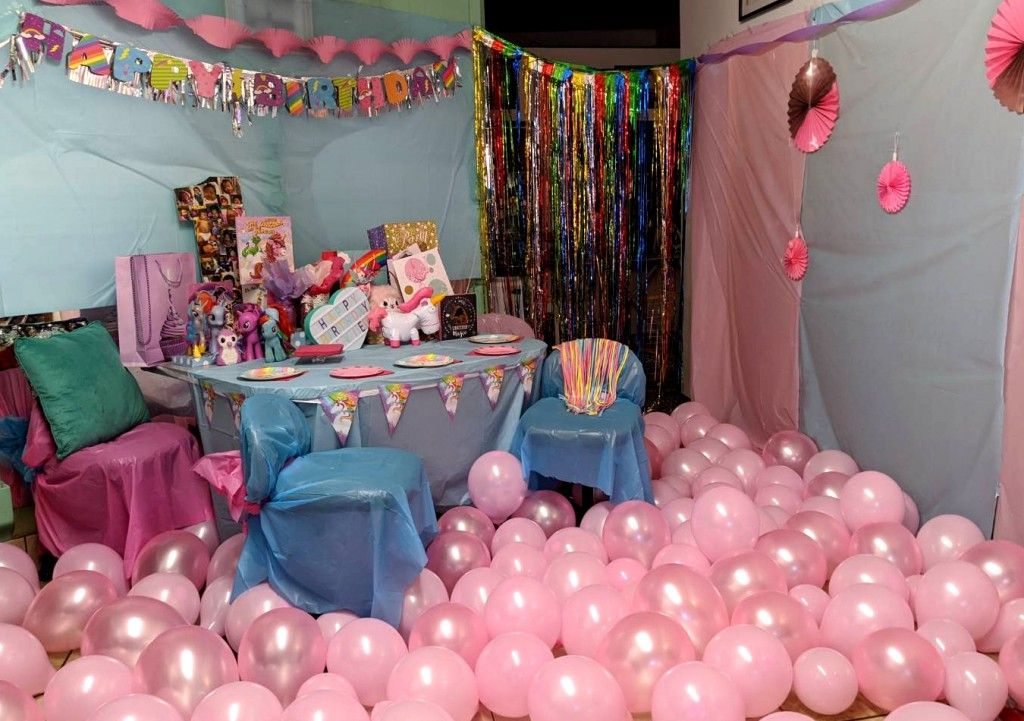 Before importing party decorations from China, learn the limitations and risks. Check the most important factors to consider before ordering.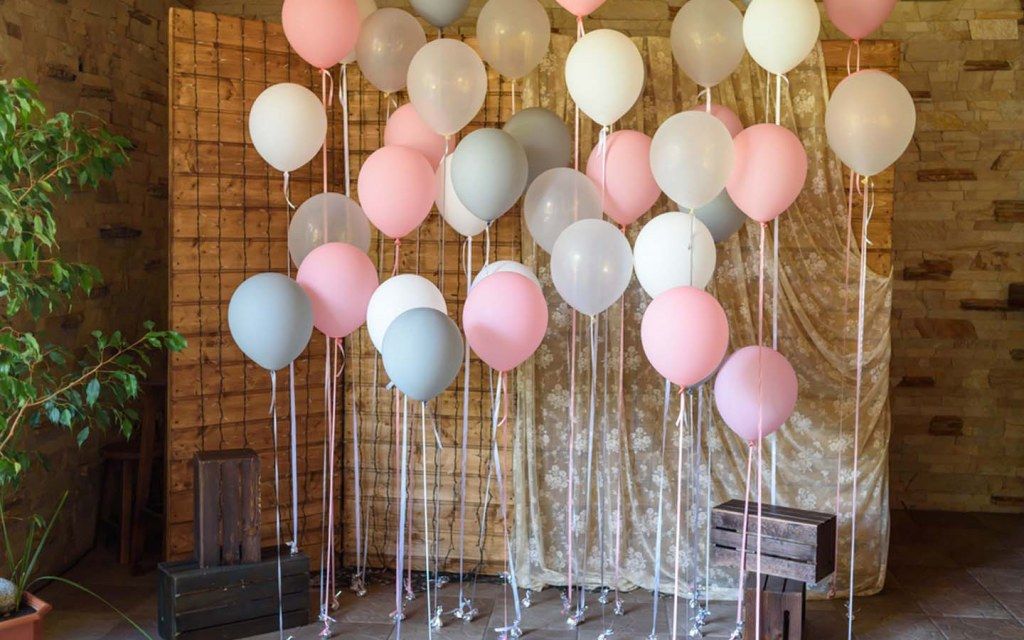 Looking for information on how to start a successful party supply store? Here's your 10-step guide to build your business.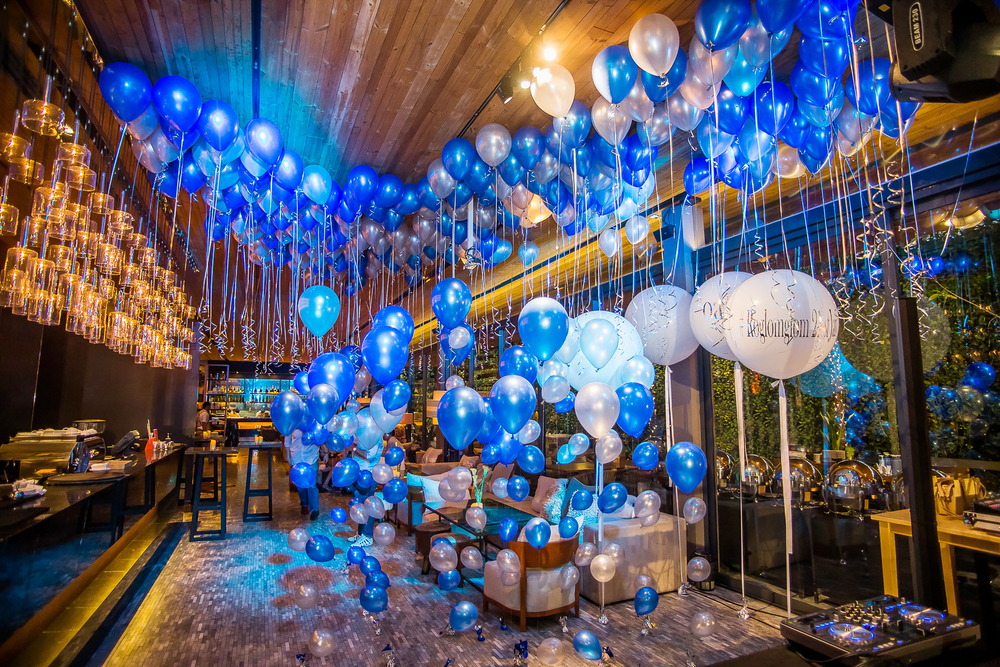 Looking to stock your party supply store? Here's a look at the best places to buy wholesale balloon supplies that will delight your customers.